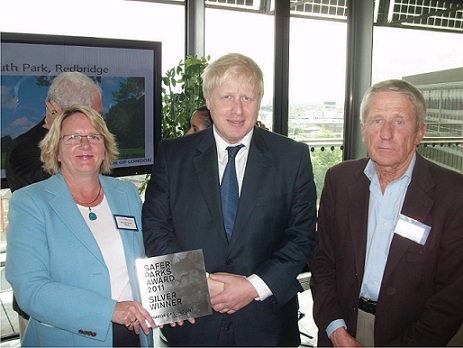 Amanda Lloyd-Harris, Chairman of the Friends of Bishops Park and Palace Riverside Safer Neighbourhood Panel accepted the London Mayor's Silver Safety in Parks Award from Mayor of London, Boris Johnson on Friday 13th May 2011 at City Hall.
This is a new award that judges the capital's parks and their relative safety. The London Borough of Hammersmith & Fulham received two Silver Awards with the other going to South Park.
Amanda praised the work of the Parks Constabulary and the local Metropolitan Police team saying: 'By working together we are ensuring that our parks are safe for all to stroll around and more residents can enjoy what the parks have to offer.'
Bishops Park is currently undergoing extensive redevelopment having been awarded nearly £8m from the Heritage Lottery Fund and H&F Council to restore the park back to its former glory. The works will also include improved facilities and equipment for toddlers up to teenagers. 'During this time the Parks Constabulary has been an ever increasing presence to ensure that safety is still their number 1 priority'. The works should be finished in late September.
Amanda added: 'This is an award to be shared by the Parks Constabulary and all those unsung people who keep a special eye on our park, the people's park. I hope all residents will continue to support them so our parks remain special.'